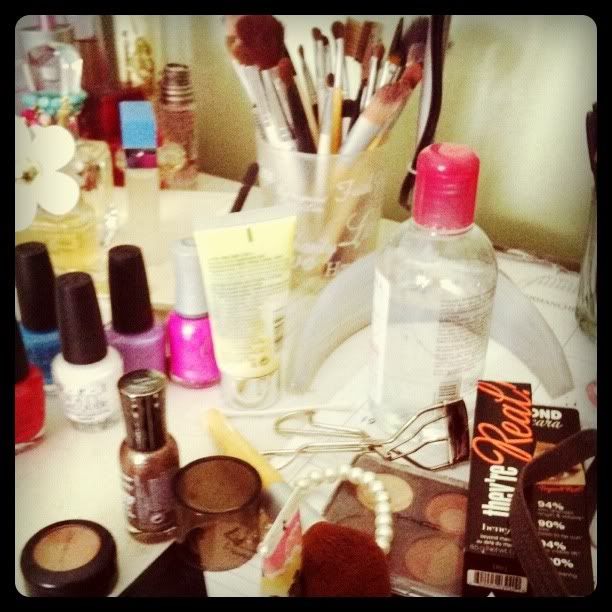 This past month (Sept/Oct) has been super hectic. Moving makes things just unbearable and tiring and all you want to do is curl up on the couch with your loved one and just enjoy the time together and think about all the memories that you will be starting in your new place. Well there hasn't even much of that due to the fact he works 15/hr days and doesn't get home until 10pm and me being the old lady I am is in bed at 930pm so there is no cuddling or catching up until the weekend. I did manage to get some things done like unpacking and organizing.
Living at home I had set up my vanity and nail polish rack to fit my room and everything had its place and I was content with everything. When you move everything that you had a place for suddenly doesn't have a place and everything is stressful. For now things are in a temporary place until I can find someone where to put them permanently without putting my bf in a state of crazy. Lately my beauty addiction has taken a back burner because now all I want to do is decorate and organize things other then add to my own things.
Things are starting to settle down now and I can get back into my daily blogging routine and start enjoying the new life that I have started. I am working on a couple blogging projects with
Amanda
&
Amber
for Thursdays so I'm super excited about that. As well I am kinda changing my blog criteria to a journal type thing which should be fun as well.
Stay tuned. :)